Living With Fibromyalgia
- My Story -
Part I


I have had this chronic pain since I was at least 14/15. Over the years I went from barely tolerating it, to frustration, to feeling helpless, and finally accepting it. Let's me first tell you a little about Fibromyalgia. Then I'll explain the frustration that comes with it.

There are 18 pressure points on the body. To be diagnosed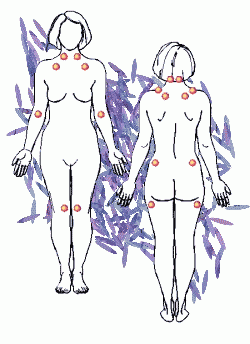 with Fibromyalgia you have to have at least 11 out of the 18. You must apply enough pressure to turn the top of your nail white. On a normal person this does not hurt. But on a person with Fibromyalgia they feel it 10 times worst. I have a very high tolerance to pain but this test truly hurts. The pain after lingers for about 2-3 minutes. That doesn't seem like along time but once the pressure from the Doctors thumb is released so should the discomfort. Not so with a person with Fibromyalgia.

When I was 14-15 I started having pains in my back. It was getting to the point I couldn't bend down or over without having problems getting back up. My dad said I was to young to have back pains and ignored it. So I never went to see a doctor.

When I was 16, my mother took me to a chiropractor. At that time they had me fill out a questioner on my pains, and then took x-rays. He told us that my neck was curved the wrong way, I had a slight curve to my spine, and that in two spots (one in my neck, the other in my low back) my disks were deteriorated. Well ok I went with that it made since as to why I hurt. Well I went for my adjustments, the roller bar, and my shock treatment, I call it. It felt good. They told me then I had a higher tolerance to pain because I liked it when the setting was an 8-10. Most people like it on 3-4.

Well when I was 17, I went to another Chiropractor. And he gave me the same diagnoses. Showed me the same pictures. Except this time my deterioration was in the third stage. You don't see that stage much till a person is around 60. Boy! That wasn't great news.

Well when I moved from home I didn't have the extra money to go to the doctor, so I just learn to except the pain. But through the years it just go worst. I would get up in the morning a feel real stiff. It would hurt to tilt my head down, like someone was ripping the skin on my back. I felt like there was a big knot between my shoulder blades. A person can get real tired of getting up this way every single day. But after a few hours it would ease up.

After my separation in 92 & my divorce in 93. I was forced to seek employment. So I went to work at a fast food restaurant. Working mainly in the kitchen. Well in November or 93 my back froze up. I could hardly walk, and if I did I was bent over like the hunch back of Notre Dame. Sounds funny now, but it didn't feel funny then. So I went to a real medical doctor, be-cause it was cheaper than a chiropractor. He gave me some muscle relaxers for the spasms, some tylonol 3 with codeine for the pain, and voltaren for inflammation, and sent me off with a week's leave from work.

Two weeks later I was back at the doctor's office, Back was locked up again. He then sent me to get x-rays, and I gave lots of blood. I had told what the chiropators had told me. Well my x-rays didn't show any of that stuff. In fact they didn't show anything wrong with me. Neither did the numouse test he did on my blood. So all he did was to tell me I was having musle spasms, and he didn't know why. So I was to continue the medication. Ok, that was a little hard to swallow. I wanted a second opinion. So I had him set me up with an Orthopaedic (a bone doctor).